With the rising chatbots trends and market outlook, it is very crucial for businesses to adopt the way they engage with customers.
Gartner says Artificial Intelligence (AI) will be a mainstream customer experience investment in the next couple of years. 47% of organizations will use chatbots for customer care and 40% will deploy virtual assistants.
Artificial Intelligence (AI) is restructuring the ways businesses communicate both internally and with customers. AI is crucial to enable automatic learning and the flexible interpretation of automated business communications.
Chatbots are predicted to move from the simple user based queries to more advanced predictive analytics based real time conversations.
Chatbots stats and industry outlook in 2020
The upcoming chatbot trends, more and more industries are using chatbots to automate the business processes. Bots are now being implemented in multiple business verticals to deliver superior customer service and improve customer experience.
Chatbots will be transforming the way businesses communicate with their customers and prospects. Some of the common use cases are customer service, lead generation, customer engagement, messaging apps, human resources, etc.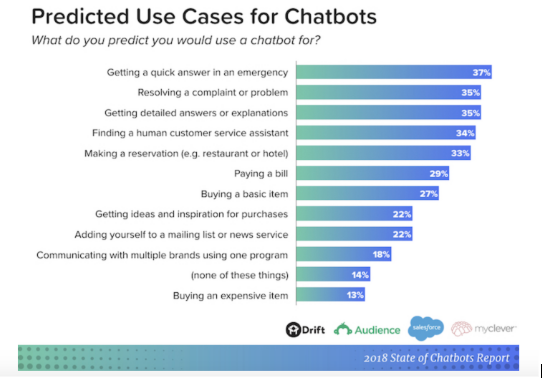 Key chatbot stats
These statistics provide insight into the future chatbot trends
Chatbot trends to watch out in 2020
The implementation of chatbot solutions will extend its horizons in the near future. The chatbots stats show that bots will be much more prepared to match human behavior and offer similar services.
Here are the upcoming chatbot trends that will take your business to the next level.
1. Chatbots will be more human
As per Global Market Insights, the overall market size for chatbots worldwide would be over $1.3 billion by 2024.
Hence, it is inevitable that the chatbot industry will become the driving force of business communications. With technological advancement, bots will become more intelligent to understand the conversations and the intent of the queries.
Considering the chatbot stats about how businesses are adopting AI technology, there are still some challenges to implement chatbots successfully.
But businesses using AI still find chatbots aren't perfect. It has a long way to deliver a greater impact.
However, the challenges still remain. The four main challenges are:
Misunderstanding requests:

Chatbots often misinterpret the requests because they are not able to understand the right intent of the customer.

Misunderstanding the nuances of human dialogue:

Due to lack of conversational intelligence, chatbots often fail to interpret the nuances of the dialogue and that leads to an inaccurate conversation.

Execute inaccurate commands:

Chatbots fail to answer any technical commands made by the customers.

Difficulty in understanding accents:

Chatbots are still not capable of understanding accents or cultural dialect to understand the right intent.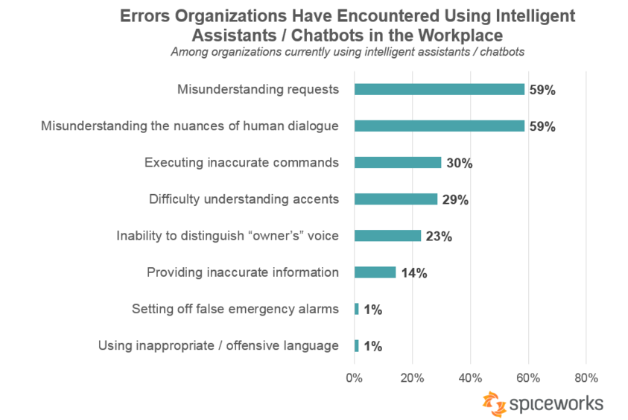 Source: spiceworks.com
Keeping this in mind and to keep pace with consumer expectations, businesses now are more focused on building chatbots that are indistinguishable from humans with the help of machine learning, artificial intelligence (AI), and natural language processing (NLP).
Chatbots with a more conversational AI will,
Deliver personalized and tailored customer experience to build better customer relationships.

Improve the user experience with your brand and boost customer loyalty.

Positively affect the customer's perception to receive positive feedback and build a satisfied customer base.
2. Use of AI in contact centers
Chatbots, virtual assistants, messaging and other new technologies are already helping transform call centers across the world.
AI chatbot trends aim at saving costs significantly when businesses upgrade from inefficient IVR technology to AI. According to Chatbots Magazine, businesses can reduce customer service costs by up to 30% by implementing conversational chatbot.
Bots without human involvement can handle simple requests such as changing a password, requesting a balance, scheduling an appointment, etc.
Some common use cases
Cost saving: The QATC report says contact center attrition rates are twice the average of all other industries combined (30% – 45% compared to the U.S. average of 15%). Bots can greatly reduce the number of human agents required and also improve on employee attrition ratio which is due to the repetitive nature of routine calls.
24×7 support: Employing staff 24×7 in your contact center can be costly. Adding resources to support multiple lines of business and languages hikes the headcount to handle customer queries around the clock.
Future trends of AI contact center
Chatbots are poised to go through transformational changes to implement AI across their core business processes. Some of these are
Automation of business process

– Automating the business with AI chatbots help in engaging customers promptly and deliver a better experience. Bots can easily handle first level queries without human involvement.
Recommending products and services

– AI can help you to manage your agent performance by monitoring them while interacting with customers and making recommendations to them.
Prediction of behavior

– AI in contact centers follows a predictive analysis. For eg. if there is a product launch AI will be able to predict the intent of the customers reach out and agents can be adjusted accordingly.
Streamline contact center experience –

With AI, information can be collected to gain the context of interaction so as to offer faster resolution by identifying the call's purpose and improve customer experience.
3. Messaging platforms as a growth driver for chatbots
68% of consumers note that messaging is the most convenient way to stay connected with businesses.
The concept of conversational commerce is more preferred as it encourages buyers to shop online with chatbots. Messaging platforms allow businesses to revive their approach from improving branding to deliver the best customer service.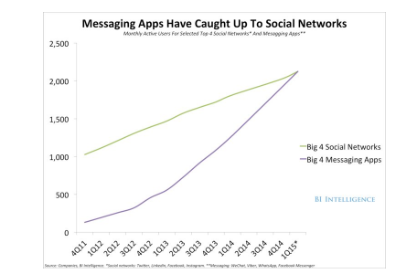 Source: businessinsider.com.au
With time, more and more brands will adopt messaging platforms to boost customer engagement and strengthen customer loyalty as these platforms will have strong bot capabilities and an integrated approach with various business functions.
With messaging platforms having chatbot capabilities, businesses can drive,
Marketing engagement

– Customers prefer business offering bot support.

47%

of users are open to purchasing items through a bot. The chatbot stats shows that most of the buyers trust chatbot as the best way to interact with businesses.

Brand awareness

– Market strategists advocate the use of bots as it enhances brand awareness and customer retention. One of the most impressive facts behind growing of chatbots is giving quick answers to customer queries.

Customer support –

Most chatbots can engage customers by answering their simple queries in the odd hours. As AI improves, bots can get smarter to tailor their responses to the individual.

Sales & lead generation –

Chatbots can be the best channel to automate your sales and lead generation process by qualifying your prospects into leads across your website and social channels.
Take an example of WhatsApp – the most popular messaging channel.
Book my show, a well known Indian online booking app, has integrated WhatsApp for Business to send ticket confirmations as WhatsApp messages by default.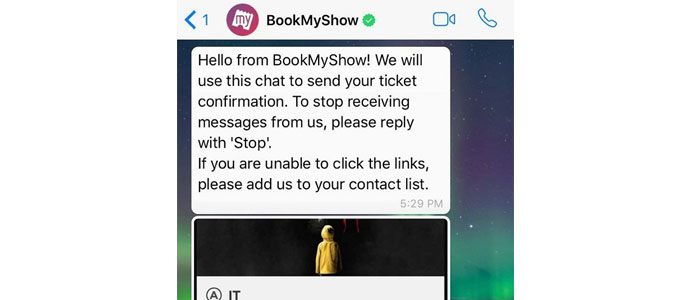 The users who book tickets on BookMyShow will be notified through a WhatsApp message along with the confirmation text or an M-ticket (mobile ticket) QR Code.
Ravdeep Chawla, the Head of BookMyShow, said, "WhatsApp has become a most preferred mode of communication for millions of people in our country and we could identify tremendous value in making it a default ticket confirmation channel."
4. Voice bots are becoming mainstream
Voice recognition technology continues to improve in accuracy, and advanced services are getting added to it.
The best example to explain better is Google Allo, an intelligent messaging app packed with Google Assistant that interacts with the user by texting back and replying to queries. This app supports both voice and text queries.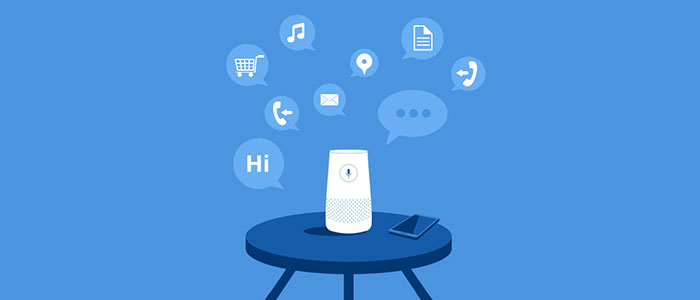 Accenture research study says those messaging platforms that comprise of both voice and text-based interfaces are being increasingly used by digital consumers as their preferred method of engagement.
Conversational user interface (CUI) based on voice as well as text are becoming a preferred way to access digital services across industries. They provide the best solutions to both the customers and agents in various areas. It can help in various sectors like education, insurance, travel, and financial services.
Why voice bots are gaining popularity?
Text can be monotonous at times while voice bots engage customers with automated, intelligence based communication.

Voice enabled bot, you can provide reliable data insights to your customers. It also helps in giving correct real-time information.

Voice bots offer new opportunities for personalization that reduces problems faced while dealing with customer requirements.
In banks, the customer data is combined with the latest data to personalize communication with the customers. In the current time when the competition is at its peak, brands must not miss out on any chance of converting leads into their customers and provide the best personalized customer service experience.
Voice bots are indeed a great way for businesses to use automation and connect with a humanized level.
5. Social media will dominate the adoption of AI
At the F8 Conference, David Marcus (VP of FaceBook Messenger) announced that over 100,000 Facebook bots were active on Facebook Messenger platform. These chatbots are popular with customers too — over 2 billion messages pass between customers and brands every month using automated systems.
Customers always had the need to contact the business for some reason or the other. Based on surveys made it can be concluded that online shoppers need assistance in their buying journey. But the expenses would mount high in case you are hiring support agents to meet customer's requests.
A huge amount of user generated data is acquired from social media but in an unstructured format. Due to which, it is a tough task to find out actionable insights from the data.
And this is how Artificial Intelligence (AI) comes into play.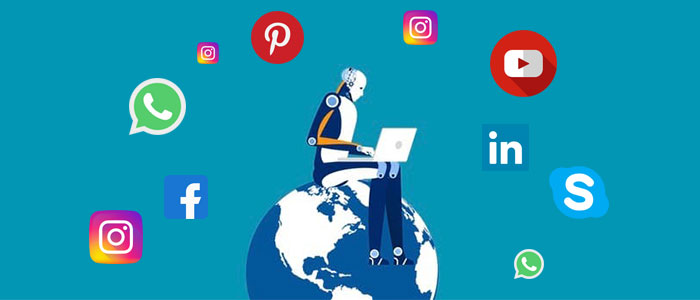 Leveraging AI over social media marketing helps you to understand and track multiple aspects of customer behavior
How much time your customers spend online?

Which social media platform do they prefer?

What is the actual purpose of using social media?
Beside this AI also helps to analyze voluminous data to identify trending topics and understand your user behavior. It also helps to streamline the processes to work in an effective manner.
6. More use cases for consumer applications
Chatbots are no more restricted to enterprises and different business verticals but it has significant use cases for consumers as well.
Ubisend report says,1 in 5 consumers would consider purchasing goods and services from a chatbot. Be it food, electronics or apparel, chatbots are prompt in handling online orders.
The famed restaurant chains like Burger King and Dominos are making their customer experience smooth and pleasant by developing a Food Ordering Bot.
How food ordering bots help customers?
It helps customers to order food from the menu on Facebook Messenger. The option of ordering food started on websites popping up ads, followed by apps and now finally bots are being developed that are capable of making the whole process much smoother.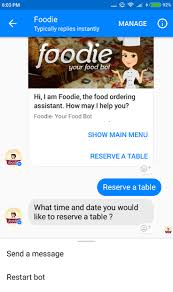 Foodie chatbot is designed to help customers for the following:
Choosing and ordering their favorite dishes from the menu

Delivery and pick up of the order

Helps in reserving a table at the restaurant
7. Chatbots will automate payments
Chatbots are drastically changing the way businesses interact with customers, manage campaigns for lead generation and automate payments. Chatbots Magazine found out 67% of US millennials said they are likely to purchase products and services from brands using a chatbot.
The future of chatbots is that businesses will automate simple payments and allow users to pay directly over live chat or Facebook Messenger apps. The instant process makes the customer happy and improves customer satisfaction.
Here are some main benefits to accepting Facebook Messenger payments:
Customers can buy directly from Messenger

– Your customers do not have to leave their app to make the final payment.

Good way of conversational selling

– Allows your customers to ask questions and you can recommend the best product as per their need.

Trust is a strong word

– Many people rely on Facebook Messenger so no issues with credit or debit card security.

Easy scalability

– It is easily scalable – it means you can sell products directly inside your automated Messenger sequences by 24×7 bot.

Cost effective

– It is cost effective compared to traditional channels like live chat and call centers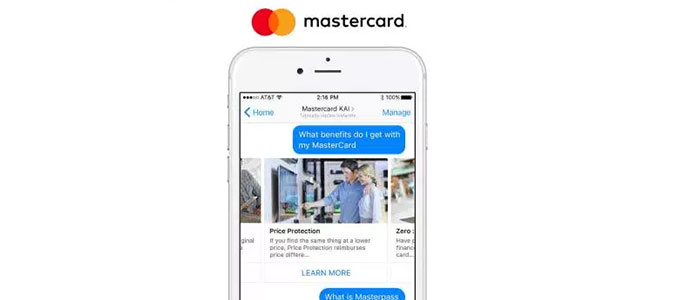 MasterCard has also launched a chatbot, especially for customer payments. These capabilities of the bots were:
Answer questions about a customer's account balance

Assist customers to set payment alerts

Collect final payments from customers
Though data security and information protection are important aspects of aspects, it is in the nascent state. It will take a bit of time to catch up of making chatbot use cases.
8. Bots for internal use for enterprises
Apart from handling customer requests seamlessly, chatbots deliver incredible business value by streamlining the internal workflows from small businesses to enterprises.
There are many use cases for AI chatbots with each variant application striving towards one common goal – to improve the experience and efficiency of the user.
Here is how chatbot trends can be used across enterprise functions:
Human Resource (HR):

Chatbots can be used to

keep the pulse of your employees, answer basic HR related questions, and complete transactional HR services.

Employee onboarding:

Onboarding is considered to be a tedious and time consuming task. Chatbots can initiate the interview process by fielding screening questions and capturing the answers. It also helps in guiding new hires through company policies.

Internal help desk:

Chatbot can handle the common queries and allow IT service desk agents to work on complex queries. The bot learns the answers to repetitive queries and improves the response time.
9. The customer experience (CX) will drive chatbots adoption
AI chatbots help to redefine the way businesses interact with customers. In the current time, where social messaging applications are gaining popularity, following the chatbot industry trends will connect you with your customers in a great way.
Temkin Group found out that increase in Customer Experience generates an average revenue increase of $823 million over three years for a company with $1 billion in annual revenues.
By automating the different business functions with chatbots, you can boost your improve customer experience.
How do bots improve customer experience?
Chatbots are best for customers who expect an instant response, typically less than 30 seconds.

AI bots are active 24×7 to engage customers to handle information based questions and reduce support tickets.

Chatbots are easily scalable during the busy hours to engage customers and deliver better customer experience.
Based on the customer experience, businesses can choose the use of chatbots for communicating with their customers.
10. More chatbot apps
According to a report by Grand View Research, the worldwide chatbot market is expected to reach $1.23 billion by 2025, an annual growth rate of 24.3%.
AI chatbots are one of those trending technologies, which has identified and ease the pain points encountered by the businesses faced these days and to scale and support business teams in their relations with clients.
More and more brands are going to build applications in the future. Bots can collect data and analyze to take important actions. With the easy integration of bots within the mobile apps, the communication level has leveled up. For instance, an app like Instagram uses AI to offer contextual content to its users.
There are many examples where AI has already entered the mobile app world and benefited many sectors like health care.
11. Deep customer insights to drive chatbot behavior
The purpose of chatbots is to imitate human based support and provide the right answers based on queries. However, without a deeper integration with your customer data, bots can't really get the exact picture of what user behavior and their journey.
The sentient analysis is important to train chatbots with more human alike capabilities.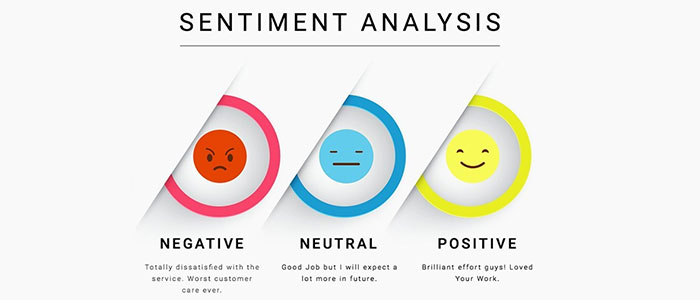 As the chatbots are becoming more conversational and users who are not always aware that they are chatting with a bot, they tend to expand and share their feelings in their messages. Just like a well-trained customer support teams to perform sentiment analysis.
For all the customer insights, chatbots can collect, normalize and aggregate customer feedback data for further analysis
12. Chatbots will be more and more part of daily lives
Chatbots are also widely used in streamlining personal tasks or day-to-day activities such as fitness, parenting, kids, e-learning, etc.
Fitness chatbots are being developed for discovering user preferences and to create a personalized chatbot experience. It will not be time demanding while engaging the user with their weekly fitness routine.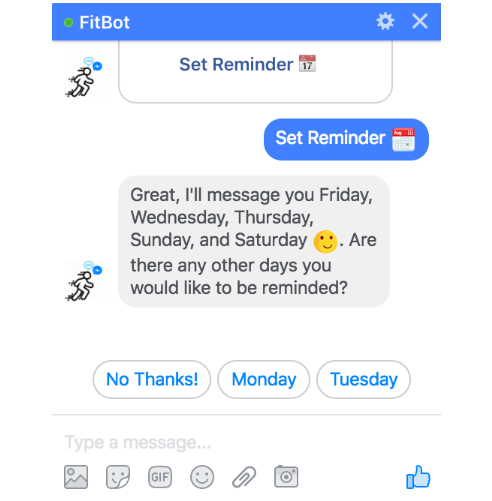 Chatbot technology is one of the most prospering eLearning innovations, which serves as a helping hand by simplifying the teaching methodology. These intelligent bots are often deployed as virtual assistants.
Chatbots are turned out to be the most innovative solution in bridging the gap between technology and education. The implementation of chatbots creates an interactive learning experience for the student much closer to the one-to-one with the teacher.
Final thoughts on chatbots trends
Chatbots are going to the mainstream across diverse business functions and consumer applications. Going ahead, automation will make it roots extra stronger and overcome all the chatbot challenges faced by the businesses. Having a deep understanding of your business requirements and accordingly implementing bots will greatly impact your customer journey and experience.